An order is considered "Not Scanned" if the order has been despatched by the warehouse but has not been scanned by the carrier within 3 days after despatch.
How can I recognise a not scanned order?
Not scanned orders have
only one
entry on their tracking page (e.g. Sender has despatched item) but no actual scans in transit. This is normal for order that have just been despatched. However, if an order does not have a first scan within
three days after despatch
, it is considered not scanned.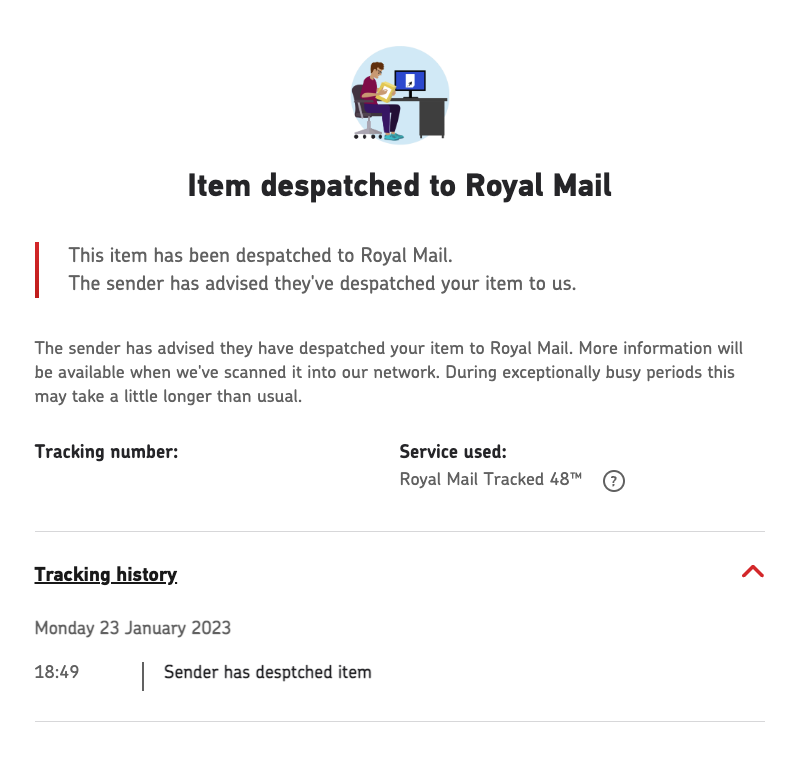 What causes not scanned orders?
Whenever a shipping label is printed at the warehouse, the tracking number is generated and you can see the above message on the carrier tracking website. The order is then placed on an outbound pallet in the warehouse despatch area. All pallets are marked for specific services and the carriers collect their respective pallets from the warehouse on a regular basis. Whenever a carrier collects the pallet, they do not scan each individual order in the warehouse but collect entire pallets. Once the pallets arrive at the carrier sorting center, each individual order is scanned and the first scanning point appears on the tracking page.

Unfortunately, there are rare cases where an order gets lost in transit between the warehouse despatch area and the carrier sort center. These are the orders that eventually end up as not scanned orders.
What can I do about not scanned orders?
Once you recognised a not scanned order, there are two options to resolve the issue.

Wait for scan to appear. In busy times (i.e. peak) it can take longer than three days for a carrier to scan a parcel at their sorting hub.

Issue a replacement order.

Can I claim for not scanned orders?

Unfortunately, all carriers reject claims for not scanned orders as they have never scanned the parcel into their network. We are also unable to claim with the warehouse since they have physically despatched the order. Therefore you are unable to claim for not scanned orders.

What does Bezos do to reduce not scanned orders?
Bezos takes a number of steps to reduce the number of not scanned orders.

We are in constant contact with our warehouse to ensure that all orders are despatched from the warehouse in time and handed over to the carrier.

We monitor the carrier performance in near real time and suggest alternatives if they don't deliver according our high standards.

We have an open communication channel with all our carrier and report all not scanned order cases to them to help them improve their processes

We work on providing alternative carrier solutions who scan all orders individually at the warehouse, thus preventing not scanned orders
If you have any questions on not scanned orders, please contact
support@bezos.ai