What reporting is available, and how do I use it?
What reporting is available, and how do I use it?
This is a report of the inventory levels for each SKU in each warehouse
How do I create a report?
1.
Go to the Reports page in your Bezos Seller Portal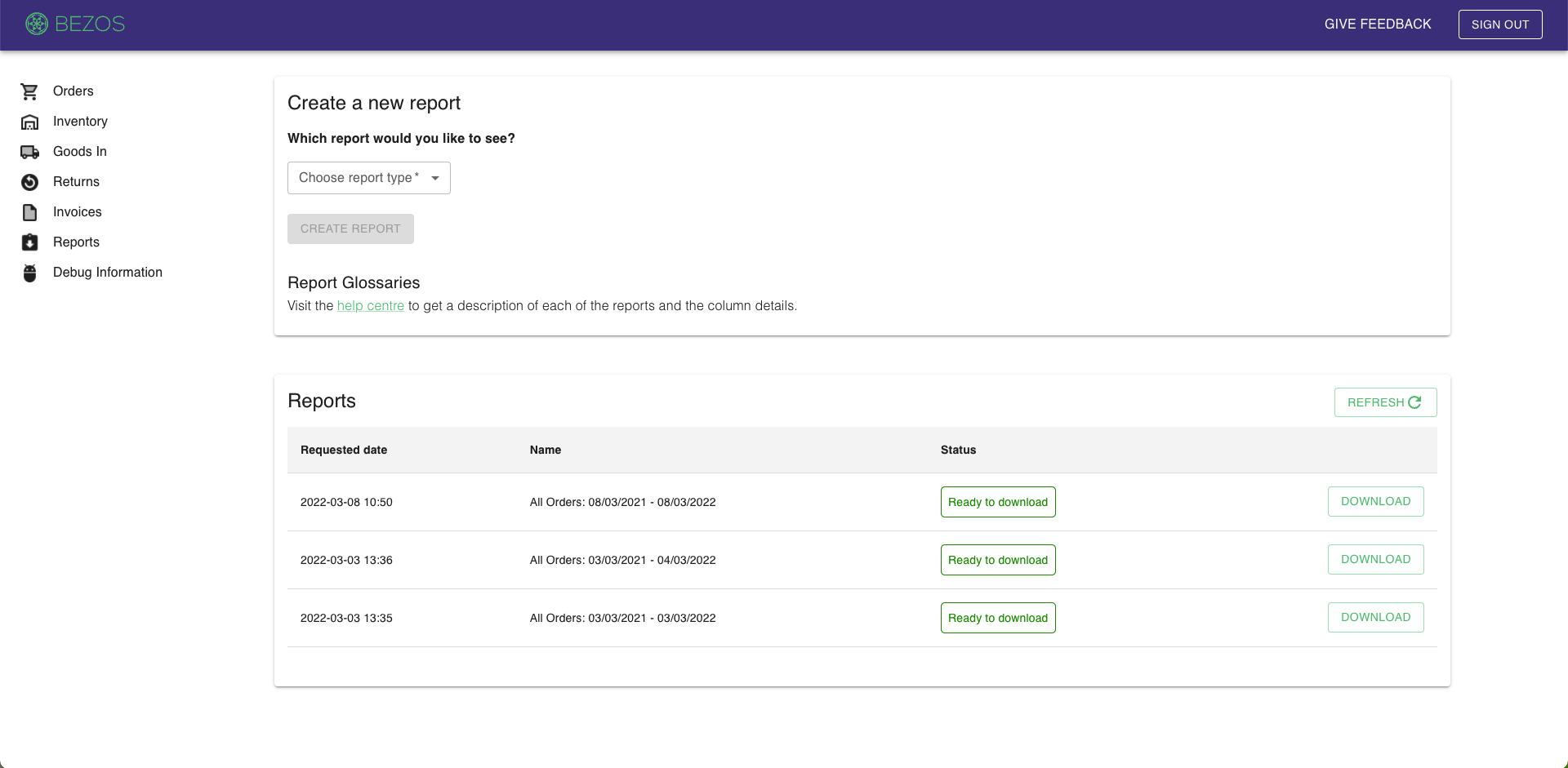 2.
Select the report you would like to generate
3.
Select date range for the report you would like to create. Some reports do not require a date range, and rather reflect the current status.
4.
Click Create Report. Once the report is created, download it by clicking the green download button, and open the report with your preferred spreadsheet tool.
Note if the report isn't viewable in the reports table please click the refresh button.

Related Articles

What do you need to do to set up your business in France?

What is needed from sellers to set up in France? VAT registration As a seller, you need a VAT registration in the country that your goods are stored in (in this case France) and Bezos will need to know your French VAT number. Before 1st July 2021, ...

How to track an order?

What do carrier statuses mean? How do I track my order: You are able to track the order from the orders summary page in your Seller Portal by checking the 'Courier Status' column. As well as this you can click on the three dots and click "view ...

How to split an order

Description: Splitting an order allows you to split onbackorder orders into multiple parcels therefore partially fulfilling any items in an order that are in stock whilst keeping the remaining items on backorder until new stock is sent to the ...

Pricing FAQ

Charge Type Charge Explained Charge reasoning Goods In Bezos will charge you for Goods In when you send stock to our warehouse. We can receive your product in containers and pallets. A pallet will contain multiple cartons which will contain your ...

How to Create an Advanced Shipment Notification (ASN)

The purpose behind an Advanced Shipment Notification (ASN) is to inform Bezos and the warehouse team that you are sending stock. It is very important to follow the steps below carefully to ensure your stock is booked in correctly and on time. Our ...